I've spent a lot of time and miles traveling our great nation. On paved roads, dirt roads, and places where there was hardly any road. I've traveled in weather so wonderful only singing will do, sliding ice, blinding snow, and rain so hard the wipers couldn't clear the window. When dark clouds start moving in, you need a way to know what's ahead.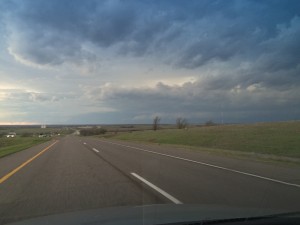 (Looking west from Highway 9, east of Turnpike Spur entrance, 6:06 PM 03/25/15.)
One of the traveling tools I've come to rely on is radar on my trusty cell phone. I have an iPhone 5s running on the Verizon network, but any smartphone today is the electronic equivalent of a Swiss Army knife, GPS, voice calls, text messaging, email, camera, and apps, lots of apps.
One app I turn to every day is the Oklahoma Mesonet weather app (iPhone / Android). I can get weather data across Oklahoma updated every 5 minutes. When's storms are rolling through the state, radar on the Mesonet app is where I start. The radar is from the National Weather Service Doppler Radar System.
(Mesonet App Oklahoma City Radar image, 6:04 PM 03/25/15)
When storms are popping up and I want more detail, another app with National Weather Service radar that I turn to on my cell phone is RadarScope. This radar app comes in either Android or Apple versions of RadarScope (radarscope.tv). This is a professional level app, that, admittedly, I don't come close to using its full capacity. Plus, RadarScope is one of the more expensive apps out there for Android and Apple phones. But to me, RadarScope has been worth every penny I paid for it, time and again.
Here is a 6:04 PM radar image from Wednesday, March 25, 2015. I'm at the center of the blue circle on the Turnpike Spur that connects Hwy 9 and I-44. Ahead of me are the dark clouds in the first picture of this blog post. There are two storms. One west of Oklahoma City and the other south of Hinton. Those purple areas jumped out at me. They indicate hail. My travel plans were to head west and then south to Chickasha. Looks like I can easily get there with no trouble.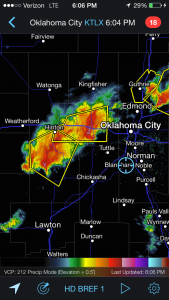 (RadarScope Oklahoma City Radar image, 6:04 PM 03/25/15.)
As I'm heading south on I-44, H.E. Bailey Turnpike, low, dark clouds continued to roll in to the west. I decided to stop at the rest area just north of Chickasha to check radar again. Here's a picture looking west.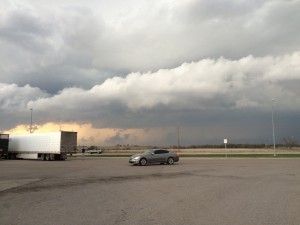 (Looking west from H.E. Bailey Turnpike Rest Area, north of Chickasha, 6:43 PM 03/25/15.)
Checking on radar, now 37 minutes later than the earlier views and zoomed in, one storm has moved into Oklahoma City. The storm I'm concerned with is the one that now stretches from Minco to Anadarko. My travels this day are taking from Norman to Quartz Mountain Lodge through Chickasha and Anadarko along Highway 9. My concern is that other storms continue to build rapidly to the southwest. This means there could be some nasty weather in the drive ahead to Anadarko or if I went south to Lawton.
(RadarScope Oklahoma City Radar image, 6:41 PM 03/25/15.)
I decided to head through Chickasha. This is the road looking west as I left Chickasha. The greyish streaking looks eerie. It sure looks like rain and hail ahead.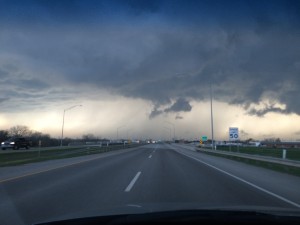 (Looking west from Highway 9, west of Chickasha, 6:50 PM 03/25/15.)
To the northwest, the clouds are looking ominous, but there's no visible rotation.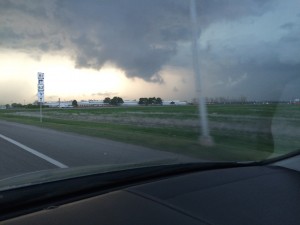 (Looking northwest from Highway 9, west of Chickasha, 6:50 PM 03/25/15.)
So I'm not really worried about a funnel cloud forming into a tornado. What I am nervous about is hail! That greyish streaking in the earlier picture turned out to be just that, HAIL! The first confirmation came fast with a single, loud "CHING" as the hail bounced off the windshield.
With a few more "CHINGs" like that, I soon turned south zipping down dirt roads with rain coming down in buckets. No time to check radar now, my full attention was given to staying on the road. Both hands were glued to the steering wheel.
My manuvering worked. Here is a radar that shows the hail storm I scooted around. I barely missed the heavy hail, the large purplish areas in this radar image, south and west of Pocasset. By traveling south of Highway 9 for 5-6 miles, I was able to squeek around the south side of the hail core. Now at 7:09 PM, I'm back on Highway 9, west of Verden and east of Anadarko, in the center of the blue circle. Yep, it was still raining at a good rate.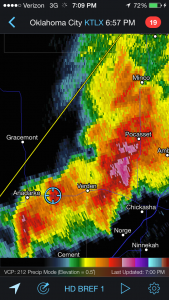 (RadarScope Oklahoma City Radar image, 6:57 PM 03/25/15.)
Wednesday, March 25th, was a good lesson in how valuable localized radar can be. It also drove home the fact that taking time to learn what radar colors represent and how storms develop are priceless.