Cattle in the Great Plains never know what to wear. Just when they put on their winter coat, it turns warm. Just when they settle into a warm day, temperatures drop and north winds chill a cow to the bone.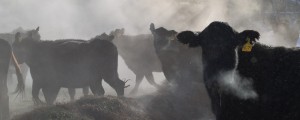 Photo: aranchmom.com
Rapid temperature change tips the scale for cattle on the verge of getting sick. It's that added stress that can bring on bovine respiratory disease. The Cattle Comfort Index gives us a tool to monitor and measure rapid weather changes. It's a measure of just how good or bad outdoor conditions are for cattle.
Last week conditions for cattle went from mild to frigid in a 3 hour period. Mesonet Cattle Comfort Advisor values were down right comfy on Friday, March 9, 2018 across central Oklahoma. Cattle comfort in the yellow areas was in the seventies. Waurika topped out at 79 based on Fahrenheit air temperature. Bristow near Tulsa made it to 76 cattle comfort degrees. Colder air in the Panhandle and western Oklahoma held down cattle comfort values.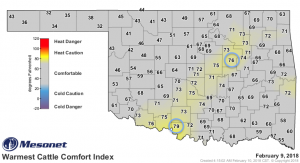 As the day warmed in central Oklahoma, the cold air was flowing south. The cold air covered the Panhandle and up to a line from Ponca City to Canton to Cheyenne by noon February 9th.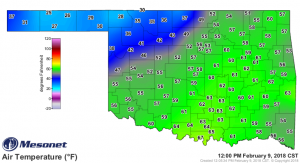 Two hours later at 2:00 PM the line of colder air stretched from Ponca City to Weatherford to Sayre.
By 4:00 PM, the cold front was starting to push out the warmer air across central Oklahoma.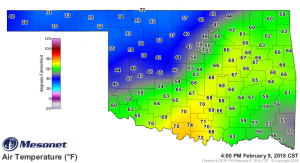 Combining with the cold air were 2-meter (6.5 ft) winds in the teens. Wind speeds and direction arrows on the 2-meter wind speed map from February 9th at 4:00 PM tell the story. Winds were from the south in the warmer areas. Calm ahead of the cold front. And out of the north behind the front.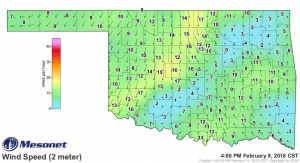 Why a map of 2-meter (6.5 ft) wind speeds? This wind measurement is closer to the ground, closer to cattle. It give us more accurate Cattle Comfort Index values.
The rapid change in temperature and wind delivered a 40 degree cattle comfort drop in the 3 hours from 4:00 PM to 7:00 PM at the Walters Mesonet site, near the Texas border. The Cattle Comfort Index went from 73 to 33.4 comfort degrees.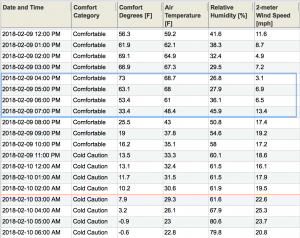 We had steadily rising cattle comfort values February 7-9th at Walters, Oklahoma. Followed by the plunge the evening of February 9th.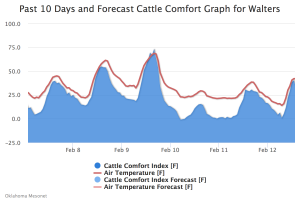 At Chandler, east of Oklahoma City, the drop was  41 cattle comfort degrees in the three hours from 5:00 PM to 8:00 PM. The cattle comfort index went from 63.7 to 22.8 comfort comfort degrees. And check out the change in wind speed over that time period.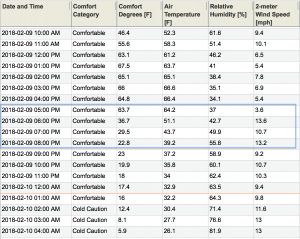 From warm to cold, the Oklahoma Cattle Comfort Advisor lets you know how much and how quickly it happened. There is also a National Cattle Comfort Advisor available for folks outside Oklahoma.