What a cold weekend we just went through! For Oklahoma, the cold air swept through the state on Saturday, December 17, 2016. The next two mornings, Sunday and Monday, were especially brutal for cattle.
Checking the Mesonet Cattle Comfort Advisor for Saturday, the maximum Cattle Comfort Index values ran from 82 degrees at Broken Bow in the southeast to zero at Boise City and Eva in the Panhandle.
A Cattle Comfort map from Saturday, December 17, at 2:35 pm highlights what a change we had in the state. While Broken Bow was at 74 degrees, Boise City had plummeted to minus 21 degrees.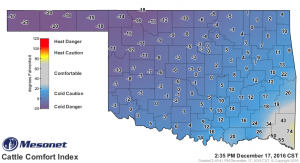 By midnight Saturday night, the Cattle Comfort Index at Broken Bow had hit 2 degrees. Out in the Panhandle at Eva and Goodwell the Cattle Comfort had fallen to minus 36 degrees.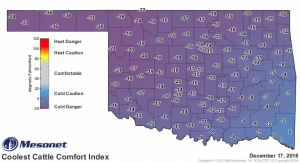 The cold intensified across the state Sunday morning. Cattle Comfort minimums went from minus 4 degrees at Idabel and Valliant, to minus 39 degrees at Eva. Every Mesonet site was below zero.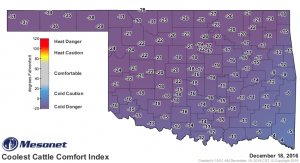 Temperatures warmed enough Sunday afternoon to push Cattle Comfort Index values into the teens and lows twenties across most of the state. We were finally out of the Cold Danger category.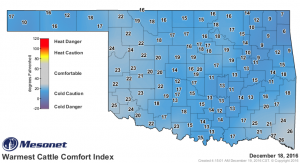 Monday morning, December 19th, Cattle Comfort Index values were back in the negative range. Minus 3 in the southeast corner to minus 31 at Eva in the Panhandle.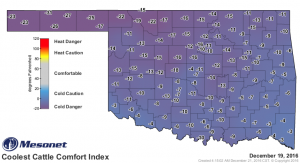 Monday warmed into the Cattle Comfort Comfortable range for most of the state. The light blue area indicates a cooler band.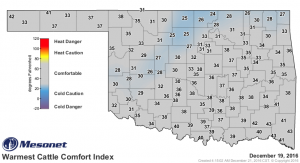 Tuesday morning most Mesonet sites had Cattle Comfort Index values above zero and in the Cold Caution Category.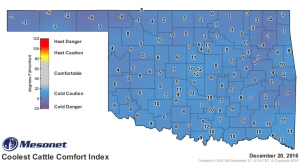 Tuesday afternoon, December 20th, the highest Cattle Comfort Index values in the state were into the sixties. The coolest Cattle Comfort high for Tuesday was 42 degrees at Miami.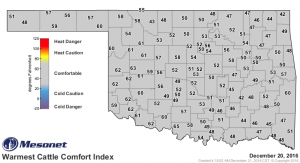 The hours of freezing air temperatures recorded by the Oklahoma Mesonet system went from 62 hours in the southeast to 129 at Hooker. Minimum air temperatures ranged from 11 degrees at Idabel to minus 18 at Eva and Beaver. The map below covers 7 days from 11:40 AM, December 14, 2016 to 11:35 AM, December 21, 2016.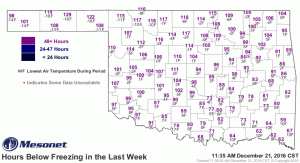 With this brutal cold past, now is the time to go back over your cold weather preparations and consider how your cattle came through it. Did your cattle bounce back from the cold? Did any come down with health problems? Is there anything you could have done different? Is there anything you could or want to change to help cattle deal with severe cold outbreaks in the future?
One blessing from last weekend's cold should be a reduction in insect populations. Hopefully, that will give us some pest insect relief in 2017.
May this be a wonderful Christmas Season and a Happy New Year for you and your family!