Oklahoma's weather roller coaster has opened for business. And on the farm, the cattle are feeling it. Warm, cold, warm, cold and how about a day of drizzle that turned to freezing rain with a biting wind (Thursday, Dec. 15, 2016).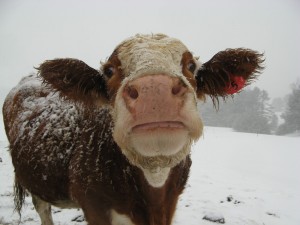 Temperature weather variability has two sides. One side is the peak-to peak (amplitude) of the variability, how high or low temperatures go. The mornings of December 17th and 18th are going to be bitter cold with extreme lows.
The other side of weather variability is the speed of those changes, how quickly we move from one condition to another.
December 16 to 17th will hit us with both. Saturday morning, December 17th, the Oklahoma Mesonet Cattle Comfort forecasted minimums range from 7 in the southeast to minus 13 degrees in the Panhandle. That puts a large portion of the state in the Cold Danger Cattle Comfort category.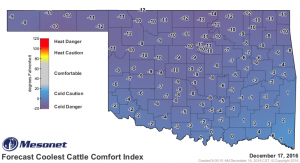 Friday, December 16, 2016 forecasted maximum Cattle Comfort Index temperatures ranged from 31 in the northeast to 62 in the southwest. Those Cattle Comfort Index temperatures are in the Comfortable Category.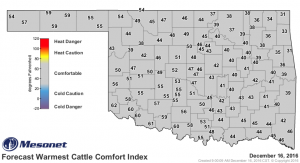 How fast will conditions change from Friday to Saturday in Oklahoma locations? Here's an example from Chickasha, Oklahoma. Friday afternoon the Mesonet Cattle Comfort Index is forecasted to hit 55 degrees at 3:00 pm in Chickasha.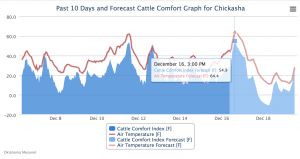 Saturday morning the Cattle Comfort Index temperature is forecasted to drop to minus 11 at 6:00 am. In 15 hours, cattle near Chickasha, Oklahoma will experience a 66 degree change in Cattle Comfort Index temperature.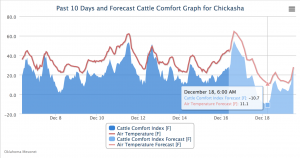 And Sunday, December 18th, the forecasted Cattle Comfort lows are even colder, zero to minus 18 degrees.
That rapid change in Cattle Comfort Index temperatures and the intensity of the lows will really stress cattle. Animals with any health issues are more likely to develop health problems from this sudden and extreme cold. They will need to be watched closely and treated quickly if a health problem develops.
Providing protection from northerly winds this weekend will lower the cold weather impacts on animals and help animals deal better with this bitter cold.